I have been really busy, hence the lack of posts.
The snow has fallen! It really looks like Christmas now! I cannot wait to grab some photos!
I had a fantastic time over at T&Ks last night! We had an early Christmas dinner with Darren, Katie and family, and another friend in from Toronto (who totally lucked out on his choice of days to visit T&Ks!!)
we started in the early afternoon… see photos below… and early apologies for the shaky iphone images… ill blame the wine 🙂
Marion made a hearty soup made from roasted winter squash with almonds and sunflower seeds.
That was for us while we prepared for dinner!
The starter was a warm beet salad on baby arugula and toasted almonds. Beets were, as usual, a pain to cook and Tristan's idea of a pressure cooker is on point for next time.
I decided to cook a Beef Bourguignon. Go big or go home.
That's right. I channeled my inner Julia Child and downloaded a few recipes and watched some videos. I made a point of reviewing the stages and planned out each step. It paid off!
I got 5 pounds of beef from the butcher and asked him about the salted pork needed. He called in the back for his grandmother who happily explained the process and key points of perfect Beef Bourguignon and sauce. It pays to be nice and ask questions!
Anyways, on to the photos!
This is the three of us busy in the kitchen. We had christmas carols playing and wine flowing. The snow was already beginning in the early afternoon so it was nice to be inside!
Yup. That was the hunk of beef prior to Tristan's samurai skills with possibly the sharpest knives ever.

#Best.Bacon.Ever.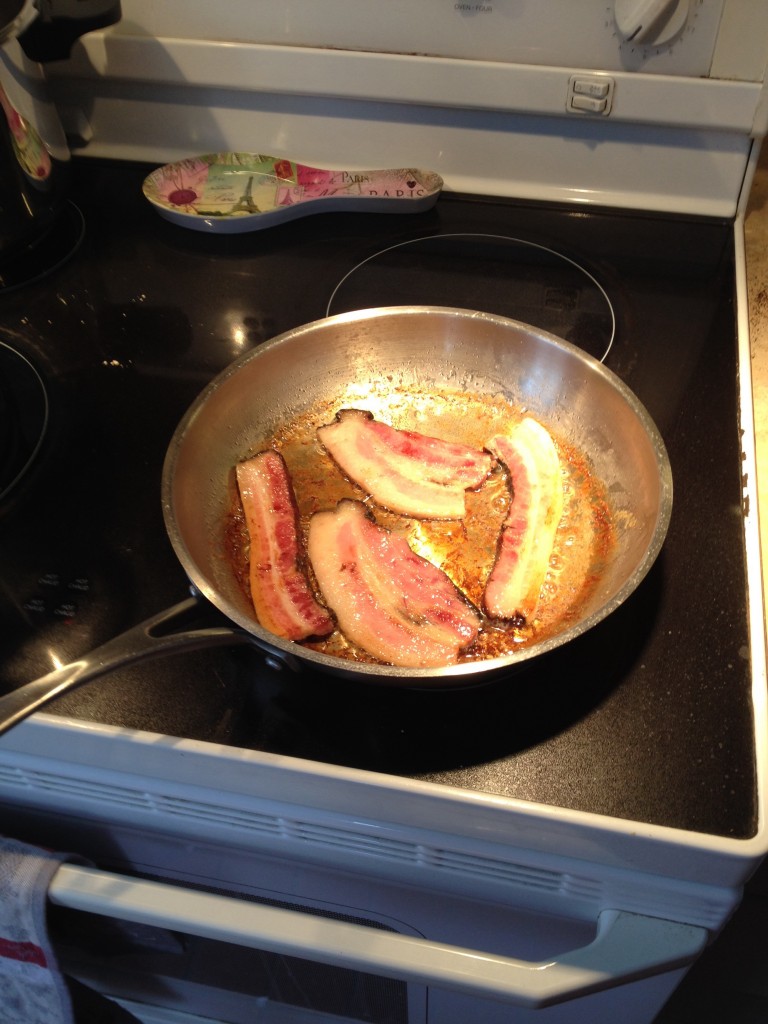 and then the diced beef was added to cook in the bacon grease (and butter) …. yeah…. my friend RP was probably pleased with how healthy my cooking was last night 🙂
That is me hard at work!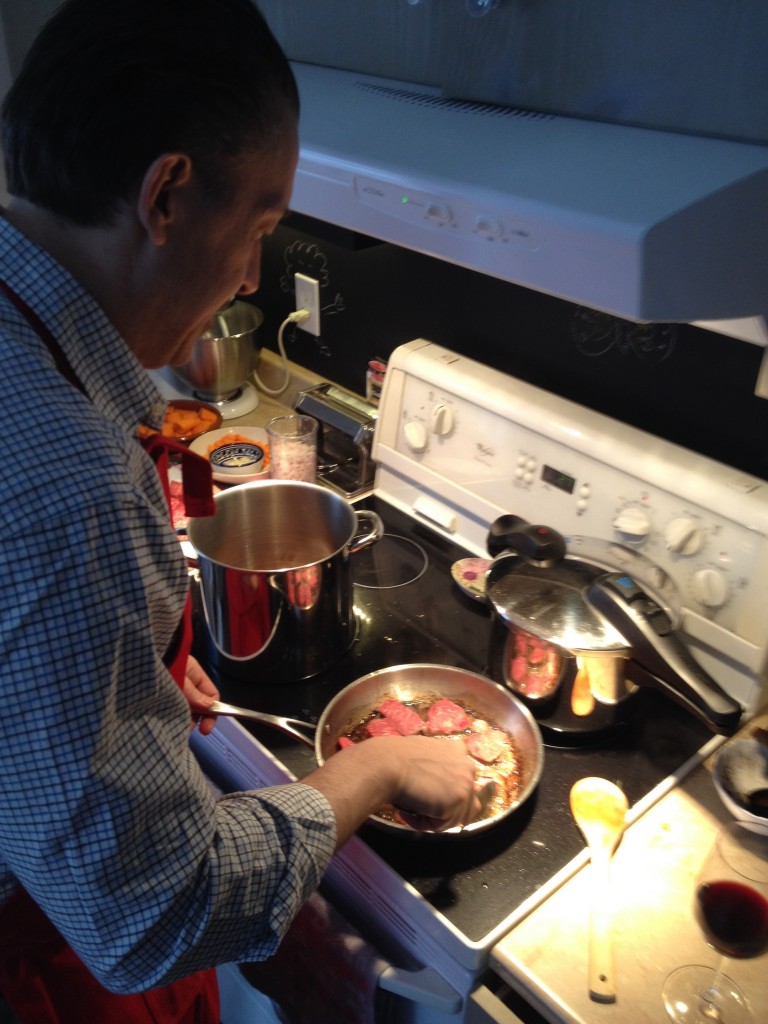 Tristan and Marion starting on the desert (I did take some of that home!). Amazing!
And in went the meat. That process itself took almost 25 minutes to cook the beef sections in multiple rounds, carefull not to crowd the meat!!
Oh… thats the soup that we had during the prep!
Then the cook down with the wine and the carrots. Pearl onions. Several hours of cooking. Beef Bourguignon, complete:)
I had a fantastic night! It was really great to cook with my friends and laugh while eating WAY too much. Merry (early) Christmas!
Ho Ho Ho!